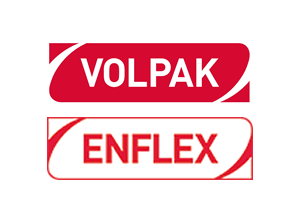 One company. Two brands
Volpak markets its products under two distinct brands, VOLPAK and ENFLEX
VOLPAK, one-step ahead in innovation
Founded in 1979, VOLPAK is a market-leading brand and a pioneer in the design and manufacturing of horizontal form-fill-seal machinery for flexible pouches of all pack styles – from the simple flat sachets to the stand-up pouch with top or corner caps – and for all main market applications – from Diary and Confectionery to Pet Food and Chemicals.
Volpak machines are equipped with state of the art technology and represent the heart of company innovation. Output rates vary from medium-low to high, both in intermittent and in continuous motion operation.
Furthermore., the volpak. portfolio includes hygienic filling equipment, vertical baggers, cartoons, and case packers, thereby giving the ability to offer complete packaging lines to customers.
Enflex, innovation made simple
Established in 1982, ENFLEX represents volpak's entry-level brand. Enflex products are reliable, easy to operate, and simple to maintain HFFS machines, with a very good Price/Quality ratio.
ENFLEX equipment has a large install base in food, pharmaceuticals, and cosmetic applications